Hiking at Sukkertoppen
Just as Rio de Janeiro has its Sugarloaf Mountain, Ålesund also has its Sugar Top. On the approach to the city, we see the cone-shaped mountain that has given it the name Sukkertoppen.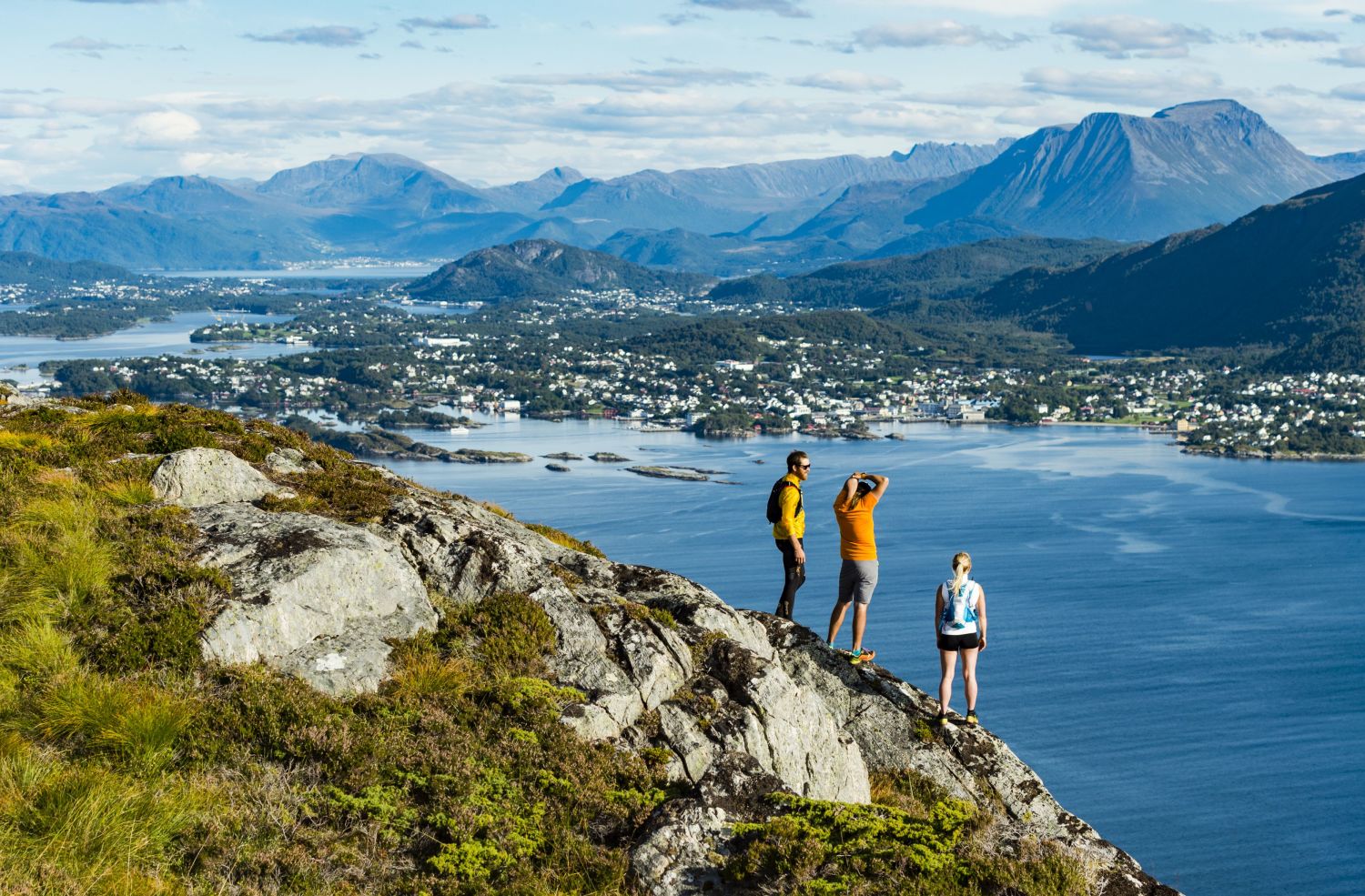 About the excursion
The guide will meet you at the quay and accompany you on the short bus ride before the walk. There is a gradual incline, and we climb 260 metres in an hour. Built-in photo stops. Storytelling. Wear good shoes. The path might be slippery. Return to your Havila Kystruten ship by bus. 
Direction: Northbound
Disembarkation port: Ålesund
Embarkation port: Ålesund
Time: 10.30 - 13.00
Meal: None
Level: 3 (Read more)
Season: Autumn, winter, spring (1.11-31.5)
Min/max persons: 6 - 45
Booking reference: AESN1
Price: from £ 88 per person
Fjellet er kjent og kjært for mange i Ålesund og det blir hyppig brukt. Her kan også du få være med på vandretur og få en storslagen utsikt. Med på turen får du guide som både får deg trygt frem på stien og til topps samtidig som han forteller deg om byens rike historie.
Ålesund er fortellingen om vikingkongen Gange-Rolf, om klippfisk og ikke minst om den store bybrannen. Fra Sukkertoppen ser du ned på en by som ble rasert en vinternatt i 1904. 850 hus ble lagt i aske og mer enn ti tusen mennesker ble husløse. Gjenreisningen skjedde på rekordtid og ga byen et sjeldent og samordnet arkitektonisk uttrykk. Opp av asken reiste jugendbyen Ålesund seg med sine mange murhus med elegante linjer og ornamenter.  
Stien til Sukkertoppen tar deg gjennom et lite skogholt før du går i åpent terreng med utsikt til byen og Sunnmørsalpene. På toppen, 314 meter over havet, venter et fantastisk rundskue med utsikt både til hav, fjord og fjell
Other excursions in Ålesund